Blog
General
Travel
Hockey
Technical
Gaming
Catalogue
Movies
TV Shows
Music
Video Games
Stats
Pages
Travel Plans
Hockey Games
Live Music
Phone History
Monument Mounting
Things to Do
Links
About



Current Blogs
2017 (12)
2016 (1)
2015 (24)
2014 (1)
2013 (4)
2012 (39)
2011 (2)
2010 (18)
2009 (28)
2008 (25)
2007 (67)
2006 (23)
2005 (32)
2004 (10)



General (13)
10 in '10 (4)
Books (1)
DVDs (3)
Funny (13)
Gadgets (5)
Hawt (1)
Movies (14)
Music (7)
Pets (4)
Recipe (17)
Running (3)
TV Shows (2)
Web (29)


Travel (80)
Akihabara (1)
Amsterdam (1)
Argentina (2)
Asakusa (1)
Barcelona (1)
Berlin (1)
Brussels (1)
Budapest (1)
Buenos Aires (1)
Cairo (1)
Calgary (2)
Chicago (1)
Cusco (1)
Dijon (1)
Dresden (1)
Edinburgh (1)
Edmonton (12)
Florence (1)
Gero (1)
Ginza (1)
Harajuku (1)
Himeji (1)
Hiroshima (1)
Iga (1)
inca-trail (1)
Ireland (1)
Japan (22)
Kamakura (1)
Kawaguchiko (1)
Killarney (1)
Kobe (1)
Krakow (1)
Kuala Lumpur (1)
Kyoto (1)
Lima (1)
Lisbon (1)
London (1)
Lyon (1)
Madrid (1)
Meguro (1)
Miami (1)
Milan (1)
Montreal (1)
Nagoya (1)
Naples (1)
Naples (FL) (1)
Nara (1)
New York (9)
Niagara Falls (3)
Nice (1)
Nikko (1)
Nile Cruise (1)
Odaiba (1)
Osaka (1)
Ottawa (1)
Paris (1)
Philadelphia (1)
Phuket (2)
Pittsburgh (12)
Porto (1)
Prague (1)
Provins (1)
Quebec City (1)
Rome (1)
Sakura (1)
Shibuya (1)
Shinjuku (1)
Takayama (1)
Tampa (1)
Toledo (1)
Toronto (1)
Ueno (1)
Valencia (1)
Vancouver (1)
Venice (1)
Vienna (1)
Warsaw (1)
Washington (4)
Whistler (1)
Yokohama (1)


Hockey (3)
Lemieux Fantasy Camp (4)
Pittsburgh Penguins (31)
Wolverines (1)


Technical (4)
.NET (3)
Java (4)
Software (3)
Work (2)


Gaming (6)
Commodore 64 (2)
Master System (1)
Mega Drive (1)
Rock Band (1)
Xbox 360 (16)
XNA (1)

The rarely updated blog of Joel Dixon
Viewing blogs tagged Pets
Saturday, May 29, 2010
# Posted by Joel Dixon at 29/05/2010 18:23:42

When Belinda and I discussed our separation a year ago, our babies (our two dogs and two cats) were an early concern. We decided that Belinda would keep the dogs, and I would keep the cats.

But as it's looking like Belinda will be staying in our current house I've realised that it's unfair to take the cats out of this environment. Belinda works from home, they get Bell's attention all day and have grown to depend on human interaction. They also love the size of this three-bedroom house, constantly running up and down the long hallway.

I'd hope they'd get used to any environment I put them into given enough time - but I love them enough to know they'd be happier here with Bell.

I'll miss my little kitties - but I'll be visiting them at least once a week before basketball games, and Belinda will just have to take more photos of them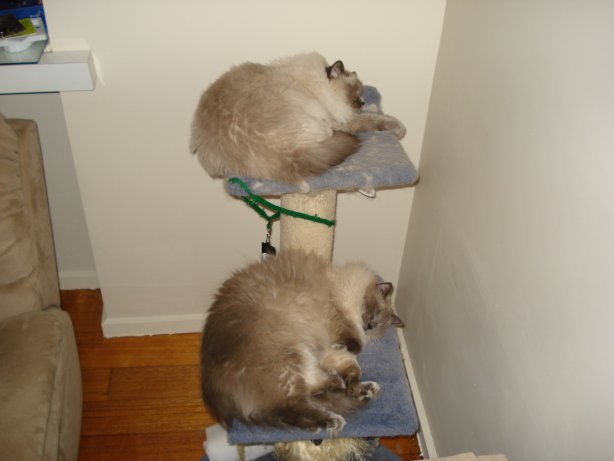 # Posted in the General section and tagged as: Pets
---
Saturday, June 30, 2007
# Posted by Joel Dixon at 30/06/2007 08:41:40

As mentioned before I am a cat person. I know it's not the most manly of things to admit - but I've always been fond of kitties, and who couldn't be after watching clips like this. Belinda, however, is definately a dog person, and has had an Akita named Saki for many years now.

Belinda is also a professional dog trainer with a local dog training school and occasionally provides private training lessons for people she knows. When we were discussing our potential marriage many years ago a bargin was struck - Belinda could, at any one time, only have two dogs and two cats and in return I would never have to do any work relating to the animals (i.e. cleaning their output, feeding them, walks). It turned out ok in the end - we now have two kitties that I'm somewhat fond of, but I do clean up the kitty litter twice a week. And recently, we got out second dog. Meet Yoshi.



Yoshi



I guess he's kinda cute
Playing hide and seek
They normally don't get along this well
All he does is sleep and play
He's also chewing anything he can get his teeth onto



Saki thinks she can fit in Yoshi's bed. She didn't have too bad an attempt



We picked up Yoshi from a not-so local breeder, and I must admit he's kinda cool. He's still in his puppy stage though, so prefers to piss on floorboards instead of grass - but I'm sure that'll pass (it did for me, eventually). Belinda has taken many photos of him, and has also dedicated part of her website for him. Apparently Yoshi means

divine wind

or

noble face

or similar in Japanese - but I'm sure you can guess why I approved of the name! Anyway, I welcome Yoshi to our family, hopefully he's the only new addition for many years to come (unless we buy guinea pigs)!

# Posted in the General section and tagged as: Pets

---
Monday, June 11, 2007
# Posted by Joel Dixon at 11/06/2007 23:22:00

I would say I'm a cat person, mainly because of our childhood cat Coco (short for Coconut). It was only a matter of time before Bell and I got us some purty cats of our own. We've had them for about 6 months now (they've already lasted longer than some of our poor fish) and I've finally gotten the photo's off Bell's camera. Allow me to formally introduce them:



Crosby






Yes, we have named another pet after my favourite ice hockey player (and recently named youngest ever NHL captain) Sidney Crosby. (To be fair - the fish's name was "Crosby Scores" which is a lot different from plain old Crosby). Crosby is probably the runt of his litter (even thought he eats like some kind of pig-cat) - but while he is tiny, his snow white fur is incredibly soft and his eyes are a brilliant blue. Crosby loves human interaction, and will waltz up to Belinda and I, meow, then lie down on his back awaiting pats. Crosby is an attention seeker, and because Belinda can give him attention most days Crosby would probably be Belinda's cat.



Oscar






Belinda wanted a dignified name for our cats, but was really stuck on Oscar. I was happy with the name too, but mainly because of the Sesame Street connection (though my number one choice for a Sesame Street name was Frazzle). Oscar must be one of the biggest cats from his litter, he can always be heard plodding up the hallway. Oscar loves playing underneath things such as boxes and sheets and has a silver streak in his fur as well as a goatie (a centimeter or so long tuff of hair under his chin). Oscar isn't as openly affectionate as Crosby, but starts his loud purrs when you look at him, and will always come and lie right next to me before going bed to get some pattings. Oscar has bonded better to me and would probably be my cat.

Both cats are Ragdolls, a placid and docile breed that tend to go floppy when held upsidedown (hence the name). They're very cute, and have made me look forward to going home that little bit more. Belinda has taken heaps of photos of course:


The first photo taken - I think this is Crosby (the only way I could tell the difference at this age was Oscar's goatie which is not visible here)
Pretty sure this is Oscar - goatie is barely visible
Crosby loved this little tunnell in their scratching post (he can't fit in there anymore)
They both loved little pieces of rope or string - just like the cartoons!
Even a brief iron didn't straighten Crosby's fur
The boys wrestle a fair bit - and used to love fighting on the scratching post
Chillin'
We have small chairs with mesh bottoms that they would use to fight between
Crosby Clause
Oscar was not amused
No, this is not the reason we lost all of our fishies
They love each other
Oscar's dirty little secret
Yes?
Oscar is our very own Bonsai Kitten



They hardly ever sleep together like this anymore - so Belinda took a quick photo



It may be a bit girly, but our kittens are cool!

# Posted in the General section and tagged as: Pets

---
Thursday, April 20, 2006
# Posted by Joel Dixon at 20/04/2006 22:41:00

The Dixon family now has some new additions! While most people eat lots of fish on Good Friday, we saved some from certain toilet-related death. We've had two large vases that Bell had always thought could be converted into fish tanks - and last Friday she went down to the pet store and bought six. We've finally decided on names (earlier suggestions such as Fluffy Apples, Gratch and Spot were left by the wayside), so I thought I'd formally introduce them.

They're kind of divided into two groups (as they're in two separate tanks) - my group is known as "The Carpet Munchers" as they took so long to swim to the top of the vase and eat their dinner. Allow me to introduce them formally, and fill you in on their secret skills (well, name origin):



Eric Cairns



Crosby Scores
Due to the yellow, black and silver colouring - I chose to name this fish after the youngest player to score 100 points in the NHL - Sidney Crosby.
Even though he has more assists than goals in his rookie year - Bell thought "Scores" would be a good surname for Sid the Fish.
Although I put Eric in the vase with Crosby to protect him - turns out Crosby's a bit of a nutter. He keeps taking runs at his roommates - and sometimes swims straight into the glass walls.
Buster Rhymes
The final Carpet Muncher was called Buster as he was the smallest of all 6 fish. Although he's small - he's always at the top of the bowl when it's dinner time. Bell and I aren't necessarily huge fans of Busta Rhymes - but thought the surname fit.
Fins McGill
Bell thought of Fins as a good name for a fish - and decided to bestow this name on the fish with the white fins.
Tiger Fish
Bell's a big fan of Tigers, so when we decided Fluffy Apples was a stupid name, we went with Tiger Fish.
Lara Croft
Those who know Bell know of her Lara Croft obsession - so it was fair enough that one fish was named after the Tomb Raider.
Lara seems to be the smartest of the fish - as she was the first one game enough to eat the food we put in their bowls.
Lara was originally called Spot - until Belinda decided that the fish was definitely female.

Although not entirely related to our fish - I did get a boat load of Easter Eggs this year! Having a wife has benefits!


# Posted in the General section and tagged as: Pets
---
Pittsburgh - For some hockey (why not?), 2017
Philadelphia - Not that sunny, 2017
Miami, Naples and Tampa - Beaches, Babe and a Baby Sloth, 2017
New York - Third time's a charmed lamp, 2017
Pittsburgh Return - Fleury, Fleury, Fleury!, 2017
Chicago - Blackhawks, Bulls and a bean, 2017
Mario Lemieux Fantasy Camp 2017 - Day 4 and 5 (Final Games)
Mario Lemieux Fantasy Camp 2017 - Day 3 (Outdoor Game, Injury, Dinner and Drinks)
Marc-Andre Fleury still giving high fives to his injured buddy
Mario Lemieux Fantasy Camp 2017 - Day 2 (Contract Signing, Training and Game)
Blog Entries



The post about nothing
posted 2 years ago by joeldixon
woow indeed - Very pleased to hear it, my dear friend! link

The post about nothing
posted 2 years ago by adriana
woow - I'm bound to have to agree with your opinion, my friend! link

Pittsburgh Arrival - Border Security Magic, 2017
posted 3 years ago by joeldixon
Welcome Mac - Love to see you here Mac! Speaking of the ice - shame that your big break ... link

Pittsburgh Arrival - Border Security Magic, 2017
posted 3 years ago by MacBeltKarate
Bad-ass Trip Bro - Woah dude! You played hockey with Mario Lemieux!? That bozo is up there as one of ... link

Living up to my title
posted 3 years ago by joeldixon
Yeah, I don't think it's working link



1. the man with no name (45)
2. Hoff (39)
3. Hitman (33)
4. Gav (27)
5. Brad (24)
6. Eryc-Ads (13)
7. milly (7)
8. Deep Lurker (6)
9. thefury (5)
10. Dieter (4)