Blog
General
Travel
Hockey
Technical
Gaming
Catalogue
Movies
TV Shows
Music
Video Games
Stats
Pages
Travel Plans
Hockey Games
Live Music
Phone History
Monument Mounting
Things to Do
Links
About



Current Blogs
2017 (12)
2016 (1)
2015 (24)
2014 (1)
2013 (4)
2012 (39)
2011 (2)
2010 (18)
2009 (28)
2008 (25)
2007 (67)
2006 (23)
2005 (32)
2004 (10)



General (13)
10 in '10 (4)
Books (1)
DVDs (3)
Funny (13)
Gadgets (5)
Hawt (1)
Movies (14)
Music (7)
Pets (4)
Recipe (17)
Running (3)
TV Shows (2)
Web (29)


Travel (80)
Akihabara (1)
Amsterdam (1)
Argentina (2)
Asakusa (1)
Barcelona (1)
Berlin (1)
Brussels (1)
Budapest (1)
Buenos Aires (1)
Cairo (1)
Calgary (2)
Chicago (1)
Cusco (1)
Dijon (1)
Dresden (1)
Edinburgh (1)
Edmonton (12)
Florence (1)
Gero (1)
Ginza (1)
Harajuku (1)
Himeji (1)
Hiroshima (1)
Iga (1)
inca-trail (1)
Ireland (1)
Japan (22)
Kamakura (1)
Kawaguchiko (1)
Killarney (1)
Kobe (1)
Krakow (1)
Kuala Lumpur (1)
Kyoto (1)
Lima (1)
Lisbon (1)
London (1)
Lyon (1)
Madrid (1)
Meguro (1)
Miami (1)
Milan (1)
Montreal (1)
Nagoya (1)
Naples (1)
Naples (FL) (1)
Nara (1)
New York (9)
Niagara Falls (3)
Nice (1)
Nikko (1)
Nile Cruise (1)
Odaiba (1)
Osaka (1)
Ottawa (1)
Paris (1)
Philadelphia (1)
Phuket (2)
Pittsburgh (12)
Porto (1)
Prague (1)
Provins (1)
Quebec City (1)
Rome (1)
Sakura (1)
Shibuya (1)
Shinjuku (1)
Takayama (1)
Tampa (1)
Toledo (1)
Toronto (1)
Ueno (1)
Valencia (1)
Vancouver (1)
Venice (1)
Vienna (1)
Warsaw (1)
Washington (4)
Whistler (1)
Yokohama (1)


Hockey (3)
Lemieux Fantasy Camp (4)
Pittsburgh Penguins (31)
Wolverines (1)


Technical (4)
.NET (3)
Java (4)
Software (3)
Work (2)


Gaming (6)
Commodore 64 (2)
Master System (1)
Mega Drive (1)
Rock Band (1)
Xbox 360 (16)
XNA (1)

The rarely updated blog of Joel Dixon
Viewing blogs in section General
Tuesday, October 29, 2013
# Posted by Joel Dixon at 29/10/2013 19:50:22
Updated by Joel Dixon at 15/12/2018 03:24:56

Apparently time flies when you are enjoying life - as Pao and I celebrated our one-year anniversary this past weekend. The one present request that Pao made of me was that I cook her dinner - so I decided upon Australian / Argentinian fusion. I also gained immediate fear knowing that I would stuff it up somehow.

I have mentioned before my great surprise at the lack of empanadas in Australia - so I couldn't think of a better first course:






Ingredients





Dough


Flour, 3 cups
Egg yolk
Lard or butter, 1/2 cup
Warm milk, 3/4 to 1 cup
Salt, 1/2 tsp.



Beef filling


Mince beef, 450 grams
White onions, 2 diced
Lard or butter, 1/2 cup
Smoked paprika, 2 tbs.
Chili powder, 2 tbs.
Fresh oregano, 1 tbs. finely chopped
Ground Cumin, 1/2 tbs.
Green onions (scallions), 1 bunch finely chopped
Hard boiled eggs, 3 sliced
Green olives, 1/4 cup sliced
Salt and Pepper to taste
Egg, white and yolk separated and lightly whisked



Cheese and Onion filling


Mozzarella cheese, 3 cups
White onion, 1 diced



Method





Dough


1. Mix flour with salt until well combined.

2. Add butter and blend well.

3. Add egg yolk and milk in small amounts, mix until small dough clumps start to form.

4. Make balls out of the mixture and flatten into discs. Chill in the refrigerator for 30 minutes.

5. On a lightly floured surface, roll out the dough into a thin sheet and cut round discs.

6. Store in refrigerator / freezer until ready to use.





I could never keep the circle intact when removing the disc from the table - hence the ellipses





Beef filling


1. Mix beef, paprika, chili powder, cumin, salt and pepper in a large bowl. Chill until ready to use.

2. Melt the lard in a large frying pan, add the onions and salt and cook until the onions are soft (about 8 minutes).

3. Add the meat mixture to the onions and cook on medium heat until the meat is done - stirring frequently.

4. Let the meat mixture cool down, then mix in green onions and oregano.



Cheese and Onion filling


1. Mix cheese and onion.



Assembling the Empanadas


1. Add a spoonful of mixture to the centre of each disc. For the meat filling, add a slice of egg and olive.

2. Brush the edges of the empanada discs with the egg white to help seal.

3. Fold the empanada discs and seal the edges gently with your fingers, twist and fold the edges of the empanada with your fingers, then press down with a fork.

4. Lightly brush the top of the empanada with the egg yolk to give colour when baking.

5. Let the empanadas rest in the fridge for about 30 minutes.

6. Pre-heat oven to 200 degrees celsius and then bake for 25 minutes.



I found the empanada recipes on this site - and there's plenty more to be found there.

For the main course I decided on kangaroo steak (which wasn't that bad, but not my favourite type of meat it turns out) with baked potatoes and pumpkin. I really liked the potatoes - so here's the recipe for them (the pumpkins do not fare very well using this method):






Ingredients



Potatoes
Oil (macadamia is what we used, but any vegetable oil should suffice)



Method


1. Peel potatoes and cut into 5cm chunks, placing into a saucepan of water.

2. Bring potato water to the boil over a medium-high heat.

3. Reduce heat to medium and simmer potatoes for 15 minutes.

4. Drain water and place back on heat until remaining water is evaporated. Shake the saucepan to rough up the potato surface.

5. Place oil in a roasting pan and place in oven.

6. Add potatoes to hot oil. Use tongs to turn potatoes to coat in the oil - then return pan to oven.

7. After 20 minutes turn potatoes and continue to cook. Remove when they look especially delicious and add salt.





Our dessert was this incredible Flynn-Paff fruit salad



So, I didn't stuff it up too much in the end. Although Pao did find it delicious - so it seems I might have to do the cooking more often than I currently do
# Posted in the General section and tagged as: Recipe
---
Sunday, December 26, 2010
# Posted by Joel Dixon at 26/12/2010 22:39:27

I completed the 10 things for 2010 with around 6 months to spare. Another desire for 2010 was to see a lot more live music - mission accomplished.



Now Google Translate helped me with that last sentence - but I'm hoping by the end of 2011 - I'll be well on my way to speaking conversational Spanish on my own. A friend at work has started weekly Spanish lessons that have been going well. I'm hoping I can learn enough to justify a trip to Mexico sometime in the next two years.


# Posted in the General section
---
Tuesday, June 29, 2010
# Posted by Joel Dixon at 29/06/2010 21:25:36



(geddit? Mashups)



This is awesome! My brother's girlfriend, Carmen posted a link to some amazing Mr. Potato Head designs, made with modelling clay. Another excellent example of how great the Internet is. The Flickr Set is here - but here are some of my favourites:


Bender
Garfield
Yellow!
Another Futurama one - but Zoidberg is great in this one.
# Posted in the General section and tagged as: Web
---
Saturday, May 29, 2010
# Posted by Joel Dixon at 29/05/2010 18:23:42

When Belinda and I discussed our separation a year ago, our babies (our two dogs and two cats) were an early concern. We decided that Belinda would keep the dogs, and I would keep the cats.

But as it's looking like Belinda will be staying in our current house I've realised that it's unfair to take the cats out of this environment. Belinda works from home, they get Bell's attention all day and have grown to depend on human interaction. They also love the size of this three-bedroom house, constantly running up and down the long hallway.

I'd hope they'd get used to any environment I put them into given enough time - but I love them enough to know they'd be happier here with Bell.

I'll miss my little kitties - but I'll be visiting them at least once a week before basketball games, and Belinda will just have to take more photos of them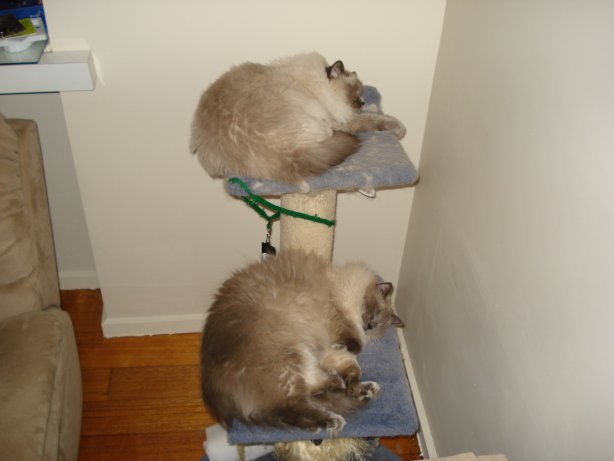 # Posted in the General section and tagged as: Pets
---
Wednesday, May 12, 2010
# Posted by Joel Dixon at 12/05/2010 22:58:51
Updated by Joel Dixon at 14/05/2019 02:37:16

I administer a website that is used by high school students in support of their studies. I was looking through the search log tonight and found the following four searches that all occurred within a few seconds of each other:

gentil
genitil
genitals
balls

I sure hope that student found what they were looking for.

# Posted in the General section and tagged as: Funny, Web

---
Saturday, April 17, 2010
# Posted by Joel Dixon at 17/04/2010 22:38:55

The second meal for my vegetarian week is Caramelised Pumpkin Risotto:






Ingredients


Pumpkin, 500 gram
Canola oil, 2 tbsp.
Onion, 1 medium finely diced
Garlic, 3 cloves minced
Arborio rice, 250 gram
Sage, 2 tbsp. chopped
Salt and Pepper to taste
Parmesan, 4 tbsp. shaved



Method


1. Dice 250 gram of the pumpkin into 1cm-wide pieces. Place in a non-stick frypan with 1 tbsp. canola oil and cook over medium to low heat.

2. Periodically toss and continue to cook until the pumpkin is cooked and the outside is darkened. Set aside.

3. Dice the remaining pumpkin into large pieces and cook in 2 cups of simmering water.

4. When tender, puree the pumpkin with the water in which it was cooked. Add more water to bring the total pumpkin liquid to 1 litre.

5. Heat 1 tbsp. oil in a pan, add onion and garlic. Sweat for 30 seconds and add rice.

6. Toss for 1 minute and add 1 cup of pumpkin puree. Cook over a low heat.

7. As the liquid is absorbed, add another cup. Stir constantly and keep adding pumpkin stock as necessary.

8. After 25 minutes, the risotto will be cooked. Remove from the heat and toss the diced caramelised pumpkin and sage through.

9. Season with salt and pepper and serve with shaved parmesan.

# Posted in the General section and tagged as: Recipe

---

# Posted by Joel Dixon at 17/04/2010 21:34:42

The final item on my 10 things for 2010 list is to be vegetarian for a week (well, from Monday breakfast to Friday lunch). I've left this one until last because it was the one I was least looking forward to. But the friend that came up with the 10 things list also gave me a few recipes, which is only fair after all. The first of which is Malaysian Vegetable Curry:






Ingredients


Red Thai chilies, 2 chopped coarsely
Fresh ginger, 2 tsp. grated
Garlic, 3 cloves quartered
Coriander root, 1/2 cup loosely packed coarsely cut
Ground turmeric, 1/2 tsp.
Ground cinnamon, 1/2 tsp.
Ground cumin, 3 tsp.
Coriander seeds, 1 tsp. crushed
Whole peeled tomatoes, 1 can (400 gram)
Coconut milk, 1 can (400 gram)
Kaffir lime leaves, 6 leaves shredded finely (I just used lime juice)
Palm sugar, 25 gram shaved (I used dark brown sugar)
Pumpkin, 2 1/2 cups chopped coarsely
Potatoes, 3 medium (600 gram) chopped coarsely
Green beans, 200 gram chopped coarsely



Method


1. Blend or process chili, ginger, garlic, coriander root, spices and seeds until smooth.

2. Add undrained tomatoes, process for 1 minute or until tomato mixture is well combined.

3. Transfer tomato mixture to medium saucepan. Add coconut milk, leaves and sugar and bring to the boil.

4. Reduce heat, simmer tomato and coconut mixture uncovered for 5 minutes.

5. Add pumpkin and potato and cook, covered, for about 10 minutes or until just tender.

6. Add beans and cook for 3 minutes or until tender.

Serve with brown rice and roti.


# Posted in the General section and tagged as: Recipe

---
Wednesday, March 03, 2010
# Posted by Joel Dixon at 03/03/2010 20:04:48

The green light has been given for my favourite book series to be turned into a HBO drama. Considering how much I loved Rome, The Wire, Flight of the Conchords, etc, etc - I'm excited!

Here's the announcement from the author.

# Posted in the General section and tagged as: Books

---
Tuesday, February 09, 2010
# Posted by Joel Dixon at 09/02/2010 23:09:41

Was stopping the mysql service on my laptop when I had an idea for a xkcd-style comic:





Alt Text: sc interrogate ex_girlfriends offers no hints either



Super geeky, crudely copied from a previous xkcd strip, and not very amusing - but it made me chuckle. A little bit.

# Posted in the General section and tagged as: Web

---
Thursday, February 04, 2010
# Posted by Joel Dixon at 04/02/2010 23:22:53
Updated by Joel Dixon at 13/12/2011 17:47:40

I decided to enter the 2010 Run for the Kids 14.6 km event, and will probably stuff up my knees again. But I'm racing a friend from work - so it shouldn't be all bad.

How about you donate some money to sponsor me? Or don't.

# Posted in the General section and tagged as: Running

---
Next Page
Pittsburgh - For some hockey (why not?), 2017
Philadelphia - Not that sunny, 2017
Miami, Naples and Tampa - Beaches, Babe and a Baby Sloth, 2017
New York - Third time's a charmed lamp, 2017
Pittsburgh Return - Fleury, Fleury, Fleury!, 2017
Chicago - Blackhawks, Bulls and a bean, 2017
Mario Lemieux Fantasy Camp 2017 - Day 4 and 5 (Final Games)
Mario Lemieux Fantasy Camp 2017 - Day 3 (Outdoor Game, Injury, Dinner and Drinks)
Marc-Andre Fleury still giving high fives to his injured buddy
Mario Lemieux Fantasy Camp 2017 - Day 2 (Contract Signing, Training and Game)
Blog Entries



The post about nothing
posted 2 years ago by joeldixon
woow indeed - Very pleased to hear it, my dear friend! link

The post about nothing
posted 2 years ago by adriana
woow - I'm bound to have to agree with your opinion, my friend! link

Pittsburgh Arrival - Border Security Magic, 2017
posted 3 years ago by joeldixon
Welcome Mac - Love to see you here Mac! Speaking of the ice - shame that your big break ... link

Pittsburgh Arrival - Border Security Magic, 2017
posted 3 years ago by MacBeltKarate
Bad-ass Trip Bro - Woah dude! You played hockey with Mario Lemieux!? That bozo is up there as one of ... link

Living up to my title
posted 3 years ago by joeldixon
Yeah, I don't think it's working link



1. the man with no name (45)
2. Hoff (39)
3. Hitman (33)
4. Gav (27)
5. Brad (24)
6. Eryc-Ads (13)
7. milly (7)
8. Deep Lurker (6)
9. thefury (5)
10. Dieter (4)